The Dell XPS 13 is slim computer with excellent performance as wel as modern design. In addition, the computer has a bright HD-touch screen. A bright and clear screen is a definite plus with any computer. You will never experience glare of any kind with the new Dell XPS 13.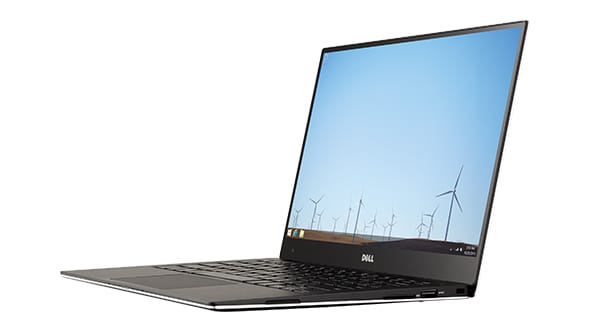 The Dell XPS 13 has a much longer battery life in comparision with other similar notebooks. The aluminum and carbon fiber body is almost identical to the previous models. The Quad HD-infinity display certainly adds a nice touch to the Dell XPS 13.
When watching movies you receive excellent contrast and you can adjust the screen to full mode if desired. In addition, the volume control can be easily adjusted. The sound is clear and concise along with a fabulous picture.
The XPS 13 comes with a backlit keyboard with two levels of lighting. The lighting may be easily adjusted to suit your needs. The computer touchpad is approximately 4.1 x 2.3 inches and it has a smooth matte type finish.
The touch screen was created with wide viewing angles as well as spectacular color range. Actually, the color range on the Dell XPS 13 is far superior to the full-HD version of this notebook.
Color range was of great importance with the XPS 13 computer. Color range was right on target covering roughly 103.6 percent of the SRGB spectrum. When comparing the XPS 13 to Macbook the color range was much more limited.
The XPS 13 has excellent sound and has better than average bass and volume. It seems that the crisp clear sound was a definite selling point when it came to this computer. In addition, another appealing feature of the XPS 13 was the reversible USB C-port. The reversible USB C- port provides support for the Thunderbolt 3.
Keep in mind, the C-port does not in any way charge the laptop. However the C-port does transfer data up to 40 Gbps to multiple displays over a single cord. This information can be quite useful when using the webcam. The webcam is located beneath the main display.
The built in camera can be quite useful. The camera comes with dual mics which enable better audio reception during video calls. However, in some cases shadows may be visible on some of the photos.
The Dell XPS 13 appears to be at the top of the list when it comes to graphic performance. In addition, brightness and color accuracy are exceptional in comparison with other similar type computers.
The Dell XPS 13 can be easily purchased for under $800.00. However, cost may vary depending upon where you purchase the Dell XPS 13. This unique computer can be purchased from a variety of Internet based retailers. A simple and very basic Google search should provide a wealth of information on availability and price.