Traditional enterprise wireless systems have their strengths but also have some very significant weaknesses: They are costly, complicated to manage, and often require high priced expert IT professionals to oversee. As has been observed, Wi-Fi has limitations for enterprise segments requiring mobility, full coverage, and 3G technology enabled applications.
The UniFi WiFi system makes use of ground-breaking technologies that deliver the best balance of coverage, capacity, cost effectiveness and mobility to bring business objectives to reality. More importantly, the UniFi system makes it easy for IT administrators to put into position and maintain a high quality and very flexible, wireless enterprise network that is affordable.
The first element of the UniFi system is the high-end wireless access points that include convenient streamlined mounting that can be affixed to the wall or ceiling. These access points feature the newest Wi-Fi 802.11ac MIMO technology, which can deliver gigabit ranges and speeds up to 400 ft. Included with the access points is a Power Injector that can be plugged into the wall to feed power down the network cable to the access point. In addition, all the access point units use Power over Ethernet that do not need to be close to a power outlet. This type of setup works the best with a dropped ceiling mounting. An enterprise can even install, configure, and manage all of their UniFi wireless access points with an intuitive and easy to learn UniFi User Interface.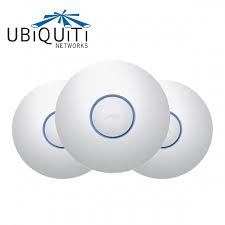 In contrast to traditional enterprise Wi-Fi systems that use a hardware controller, UniFi is bundled with a non-dedicated software controller that can be deployed on a PC/Mac/Linux, in a private cloud or using a public cloud service. Moreover, UniFi delivers triples the speed of data transfer on the current Internet protocol with more robust network performance, reliability and RF bandwidth utilization efficiency able to handle the most demanding applications and devices.
With the exception of the data center, wireless networking has evolved so significantly that it is now possible to replace traditional enterprise wireless networking anywhere. A hardware WiFi switch is a key component used for traditional enterprise WiFi systems. However, there is no additional hardware required for Unifi, and it uses a free virtual client/server application. In summary, the UniFi system attempts to relieve an enterprise's wireless networks headaches by providing them with high-performance, affordable, efficient, and intuitive top of the line wireless network systems.